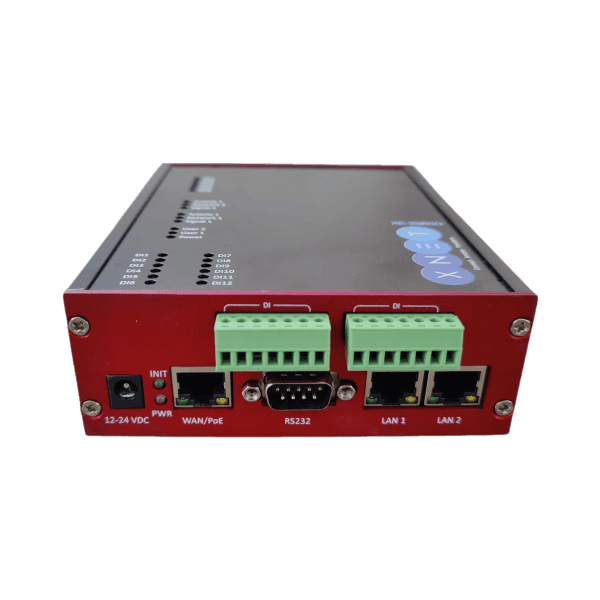 XE-33 XIO Series
Triple Redundant, high speed, rugged edge computing LTE RTU
Control and Monitor your assets on a real time basis with XE33#XIO series, with a host of local connectivity interfaces viz Ethernet, Serial, USB, Digital Inputs, Digital Outputs and Analog Inputs.
With triple redundant Data connectivity comprising of one Fast Ethernet WAN and Dual LTE Cat 4 WANs, Niseva Technologies XNET EDGE XE-33 Series aims to take connectivity speed and reliability to the next level.
Packed with a powerful dual core CPU, aided by intelligent programmable Linux-based embedded software, host of Industrial protocols natively supported, and seamless integration with XNET, the XE-33 series is a perfect choice for Enterprise, Industrial and IOT deployments.
Multiple Digital Analog I/Os
Powerful CPU & Embedded Intelligence
Industrial Protocol Support
Hardware Interfaces for XE-33XIO#1C
2 X 1Gbps Ethernet LAN Ports
1 X 1Gbps Ethernet WAN Port
1 X Full RS232
1 X USB 3.0 type A for console access
1 X CAT 4 LTE Cellular
1 X Mini SIM
PD PoE over WAN interface
12 Isolated Digital Inputs – 0 – VCC
6 Digital Outputs – 200mA Open Collector
4 Analog Inputs – 4-20mA or RTD
865 – 867Mhz RF Optional
Additional interfaces for XE-33XIO#2C
1 X CAT 4 LTE Cellular
1 X Mini SIM
GNSS
Hardware Details
CPU- 880MHz Dual Core
Flash – 16MB, SD Card
RAM – 256MB
Cellular
LTE FDD: B1/B3/B5/B8
LTE TDD: B34/B38/B39/B40/B41
TD-SCDMA: B34/B39
WCDMA: B1/B8
GSM: 900/1800MHz
Cellular Data Rates
LTE CAT 4:
LTE FDD: Max 150Mbps (DL)/Max 50Mbps (UL)
LTE TDD: Max 130Mbps (DL)/Max 30Mbps (UL)

UMTS:
DC-HSDPA: Max 42Mbps (DL)
HSUPA: Max 5.76Mbps (UL)
WCDMA: Max 384Kbps (DL)/Max 384Kbps (UL)

GSM:
EDGE: Max 296Kbps (DL)/Max 236.8Kbps (UL)
GPRS: Max 107Kbps (DL)/Max 85.6Kbps (UL)
LED
Power / Boot LED
Signal Strength
Device Network Registration
Cellular Data Activity
LAN / WAN Data activity
Digital Inputs and Outputs
Power
11-28 VDC
Max Power consumption:
XE33XIO#1C – 6W& XE33XIO#2C – 9W
Operating Temperature
-30 to +70 degree Celsius
Routing Features
DHCP Server, DHCP Client, Static Routes, Traffic
Routing, Port Forwarding, Dynamic DNS, NAT
Performance Redundancy
Triple redundancy with 1 x Fast ethernet WAN and 2 x
Cat 4 LTE WAN
Simultaneous operation for all WANs and load
balancing or failover between WANs
Data Connectivity Watchdog and Hardware Watchdog
Security and Tunnelling
IPSec with IKEV1, IKEV2, Selectable encryption
schemes, Selectable Hash Algorithms and Dead Peer
Detection
Zone Based Firewall
Stateful packet inspection and Sync Flood Protection
Sim Pin
Source / Destination IP address binding
Management
Web based local and remote configuration
SNMP V1, V2, V3
Industrial Protocol support
Modbus Master
IEC 101 Master / Slave
IEC 104 Master / Slave
Modbus to IEC 104 Convertor
IEC 101 to IEC 104 Convertor
DNP3 Slave
DLMS Master
Connectivity Protocols
TCP/UDP/FTP/HTTP/MQTT/NTP/ICMP/HTTPS*/SMTP*/
FTPS*/SMTPS*
Programming Capabilities
Linux Operating System
Development APIs